Organized by the UK's Vaping Industry Association (UKVIA), VApril – the "world's biggest and most successful campaign" which aims to spread awareness and champion the benefits of vaping.
The campaign now in its 5th year – launched by TV doctor, Dr Christian Jessen, star of Channel 4's Embarrassing Bodies – aims to show established vapers and Britain's seven million smokers alike, the different types of vape products on the market, offer advice as to whether vaping is the right route for them and help all to vape responsibly.
Public Health England (PHE) state that vaping is contributing to at least 22,000 smokers quitting every year – a figure which is widely considered to be much higher according to the vape industry, also recognized that vaping is at least 95% less harmful than conventional cigarettes and combustible tobacco.
The UK Vaping Industry Association (UKVIA) recently showed that there are some 3m plus vapers who were former smokers and according to One Poll research amongst nearly 2,000 adults, 72% of smokers who were aware of VApril said that the campaign had influenced them to make the switch to vaping.
John Dunne, Director General of UKVIA said: "We know from Public Health England that vaping is at least 95% less harmful than smoking and the last 18 months has seen a massive groundswell of support from the medical and political worlds underlining how vital vaping is towards helping people to quit smoking and the overall health of the nation."
According to UKVIA, studies show that in every region of the country switch rates among adult smokers were found to be higher with the use of vaping than other products, ranging from 49% success in the South West to 78% in Yorkshire and the Humber.
John continued: "We are steadfast and determined in our mission and resolve to give smokers a real choice underpinned by VApril 2022 and the huge support we receive from vape retail stores and other businesses across the UK as well as vape associations across the world."
Are you looking to quit smoking?
Vaping is one of the best ways to help you successfully quit for good.
An estimated 3 million plus UK smokers have turned to vaping. Now find out how it can help you too!
Produced by the UKVIA and the Smoke Free App, the Switch on to Vaping plan is designed by experts to help adult smokers quit. Stopping smoking is the single most significant step that people can make to improve their health
Follow the five steps below to make your switch to vaping.
Step 1:
UNDERSTANDING YOUR SMOKING HABITS
Understanding your smoking habits, lifestyle choices and health goals is essential information for healthcare professionals, stop-smoking and vape specialists to give you customised advice on the best course of action to quit smoking.
Step 2:
CHOOSE THE RIGHT VAPE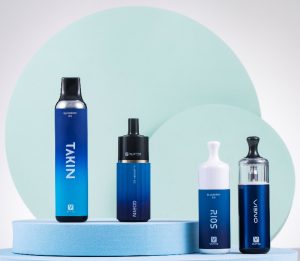 Seeking advice on the right type of vape device is critical.
It's important that your choice of device is easy to use, satisfies your cravings and fits with your daily routine.
In recent years, lots of people successfully make a switch from smoking to vaping by using disposable pods, which has no refilling, no charging, no button, no fuss. It's easy for all vape users to start puffing right out of the box and all you have to do is simply vape! Such as Vaptex Takin, (a 3000 puffs adjustable airflow disposable pod), Gorin, (a 2000 puffs disposable pod), Rios (a 1,500 puffs disposable pod) and Vieno (a refillable and rechargeable semi-disposable pod).
Step 3:
NICOTINE LEVELS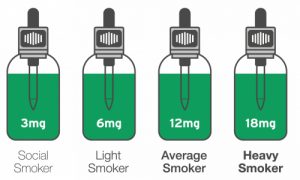 As with e-cigarette devices, advice on the right level of nicotine concentration is critical.
It is important to ensure that your nicotine intake closely mirrors the same level delivered when smoking.
Step 4:
KNOW YOUR FLAVOUR OPTIONS
Flavours play a key role in supporting smokers to quit and stay quit.
All vapers who have switched from smoking are different and you should be open to trying different flavours. This is part of your quitting journey.
Vaptex vape devices TAKIN, GORIN, RIOS have 10 most popular flavors available for options:
Grape Ice
Blueberry Ice
Blueberry Raspberry
Tropical Fruit
Watermelon Ice
Passion Fruit
Strawberry Milkshake
Mango Ice
Orange Pineapple Mango
Banana Ice
Step 5:
REMEMBER: EVERY CIGARETTE NOT SMOKED IS A WIN
Don't worry if you don't feel that you are making as good progress with transitioning from smoking to vaping as you had hoped for.
Just knock out one cigarette at a time and take as long as it takes – it's not a race to the end.
If you're looking for even more advice and guides to vaping, we have lots of helpful articles to get you started on our vaptexworld.com/blog/vapeguide.