Vaptex BOXMO Disposables Review: How do they Perform?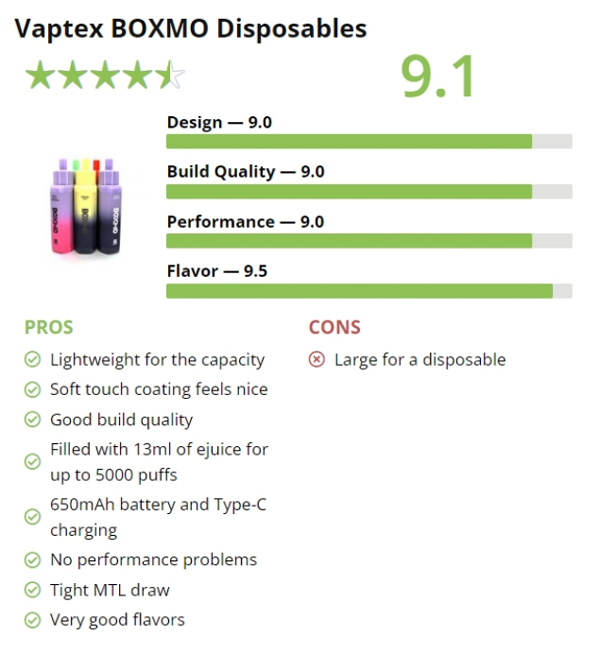 Versedvaper.com's Verdict:
There are a lot of disposable vapes coming out these days and I think that the Vaptex BOXMO disposables are another device to add to the good list. They are light, feature a nice design, and provide an excellent draw and great flavor. The flavors are all really good and the fact that I didn't have any performance issues or DOA units is a good sign for their build quality.
The only real con with these is that they are big, but that's the tradeoff that you have to make if you want a disposable with 13ml of ejuice and a rechargeable 650mAh battery.
Overall these are a good choice if you're looking for a new disposable and you won't be disappointed with the performance and flavor.
The Full Review:
Vaptex is a newer company that was founded in 2021, but they've already produced 6 different disposable vapes. These range from smaller disposables that are filled with 4ml of ejuice, up to larger disposables that are prefilled with much more ejuice. The BOXMO is their latest disposable and it's also their disposable that boasts the largest ejuice capacity at a whopping 13ml. This should get you up to 5000 puffs.
Vaptex's BOXMO disposables are available in 10 different flavors and in one strength, 50mg (5%). They also have a 650mAh battery which is rechargeable through a Type-C port located on the bottom of each one.
An interesting feature of the BOXMO's is that the mesh coils are manufactured by what Vaptex calls Photo Etching Mesh Technology or PEMT. This supposedly makes the mesh heat up more precisely and more evenly. The BOXMO also has a specially designed airflow pathway that is supposed to prevent spitback.
With the sheer number of disposable vapes available, are the Vaptex BOXMO disposables worth considering?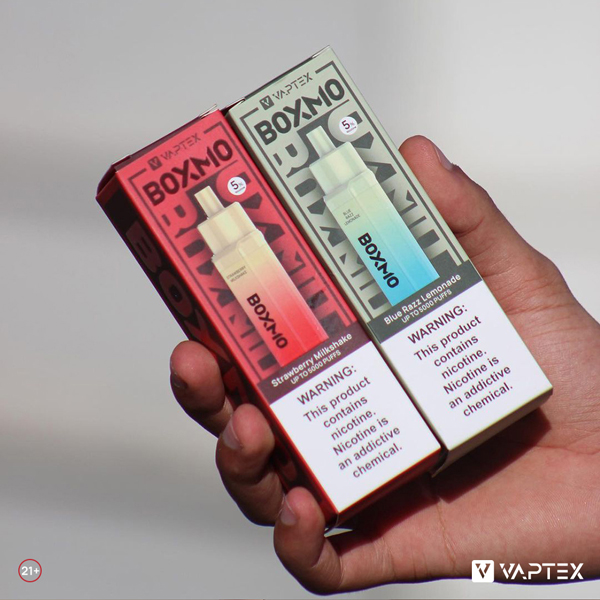 Specifications
650mAh rechargeable battery
Type-C Charging
50mg nicotine strength
Up to 5000 puffs
Prefilled with 13ml of ejuice
2Ω PEMT Mesh Coil
Airflow Designed to Prevent Spitback
Design & Build Quality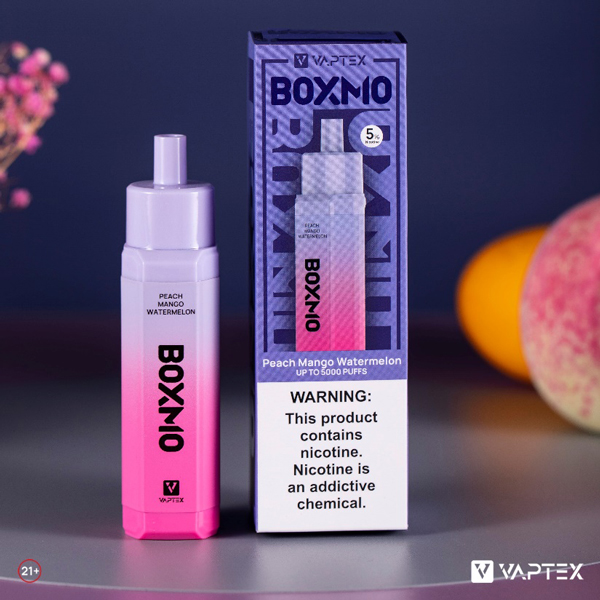 Vaptex's website states that the BOXMO has a unique shape like no other disposable vape and they are absolutely correct. Other disposables that I've used have had a tall cylindrical shape that is most similar to a vape pen. The BOXMO on the other hand is shaped more like a typical pod mod. It has a flat front face with a rounded back, like a pod mod, and the top portion of the disposable is shaped like a pod tank. It's a unique design among disposables and makes me feel like I'm holding a real device and not just something to be thrown away once it's used up.
As far as the size goes, these are about the size of a pod mod too. This is the way that a lot of disposables are going though; larger ejuice capacity, larger battery, larger size. The size means that carrying more than one or two around in your pocket is going to be noticeable so if you're the type that likes carrying a couple of flavors around with you at once then you'll probably need a bag or purse.
Although they're on the bigger side of disposables, they don't weigh much at all. They have enough weight that they don't feel cheap or fragile, but carrying or using a single one is not going to weigh you down.
I particularly like the look and finish of the paint on these. While the top "pod tank" portion and very bottom part of each disposable is plastic, the main body is finished in a soft-touch paint. The soft-touch feel is very nice and the quality of the paint is good as well. The color of most of these disposables is a gradient that fades from one color at the top, down to a different color towards the bottom, but some of them are a solid color.
On the front face you'll find the flavor printed, as well as BOXMO and the Vaptex logo. It's a clean looking disposable all-around and the soft-touch finish gives it a more premium feel than your typical disposable. The shape is also comfortable and allows me to grip it naturally, with my thumb resting on the flat front. The drip tip is about the size of a 510 and, although simple, it's nice to vape on.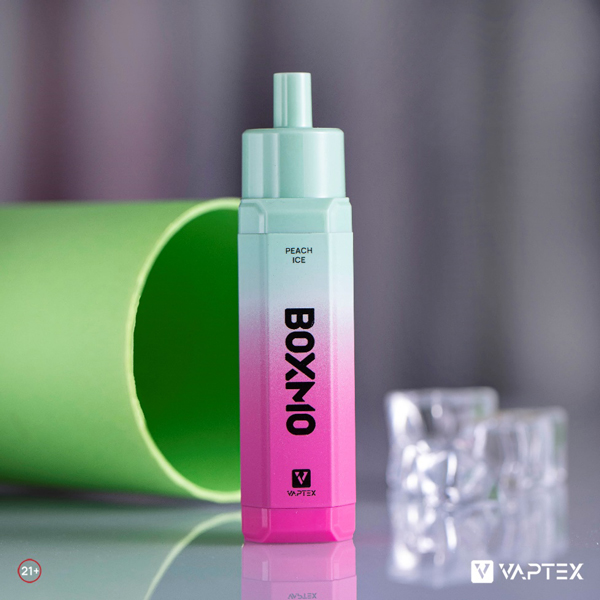 A feature that Vaptex mentions on their website is the Airway Automatic Cleaning Technology, or AACT. What does this mean? Well, the drip tip tapers down from the top and gets considerably smaller at the bottom. This supposedly prevents spitback.
Each BOXMO comes prefilled with 13ml of ejuice which is a lot for a disposable. Vaptex states that each one should last for up to 5000 puffs. They only come in one strength, 50mg (5%), so these are best suited for heavy smokers looking to quit. These also have a 650mAh battery built-in which recharges through a Type-C port on the bottom of the device.
The BOXMO's use a 1.2Ω mesh coil that is manufactured by Photo Etching Mesh Technology. Instead of eroding the metal with liquid to make the coil, Vaptex uses a laser to make the mesh. According to Vaptex, this means more precise and more even heating of the mesh and also better flavor.
There are no buttons on the BOXMO. Like other disposables you only have to draw on the mouthpiece to begin vaping.
From a design and build quality standpoint, these are solid disposables. The soft-touch coating feels great, they're comfortable to use, and they are made well. So far, I'm impressed.
Flavors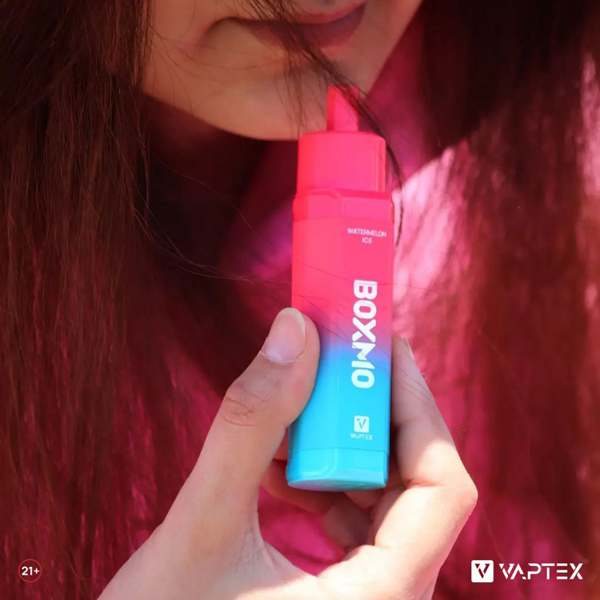 Vaptex BOXMO disposables are available in 10 different flavors, all of which come in 50mg (5%) nicotine salt strength. I received 8 of them for this review.
I'm going to describe how each flavor tastes to me and what I think of them. Keep in mind that just because I like a flavor does not mean that you will like it, and vice-versa. This is solely my subjective opinion.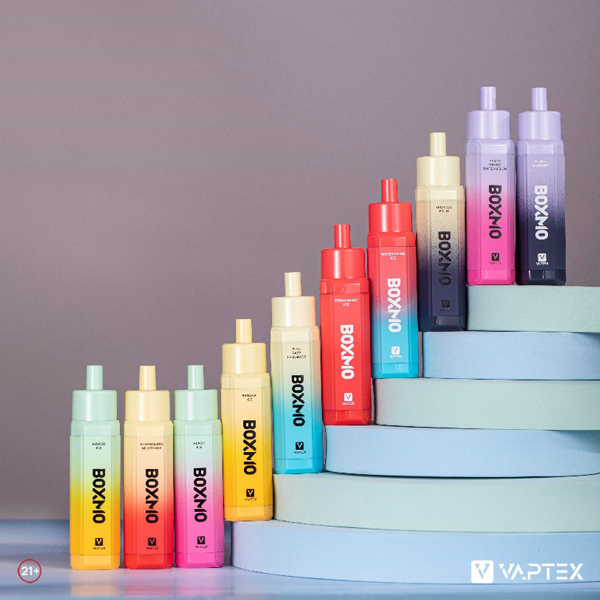 Blue Razz Lemonade
A nice sweet blue razz flavor with a subtle hint of lemonade to really finish it off. This flavor is just sweet enough and is a nice variation of the traditional blue razz flavor. If you're a blue razz lover then you will likely appreciate this flavor.
Strawberry Ice
This tastes like fresh, natural strawberries. Although it has 'ice' in the name I don't actually feel any cooling. This flavor isn't overly sweet but I would say that it's just right. It's not candied or unnatural tasting like many strawberry flavors and that's what I like about this one.
Mango Ice
This is another ice flavor with no discernable cooling effect. It's very strong and very dense on the mango though, almost overpoweringly so. I almost feel like I'm inhaling perfume — it's that thick and intense. It's tasty but too rich for my liking.
Tropical Fruit
This is a mix of a whole bunch of fruit flavors but guava is the one that takes the main stage and that I taste the strongest. I also taste a little orange in here too. This is one of my favorite flavors that they offer and one of the ones that I vaped the most.
Black Currant
If you don't know what black currant tastes like, it's essentially like a purple grape. This flavor is very tasty and reminiscent of grape juice. I find it to be just sweet enough and really smooth to vape on. If you're a fan of grape flavored ejuices then you should try this one out.
Peach Mango Watermelon
Right off the draw I taste the mix of watermelon, peach, and a subtle mango flavor. Watermelon is the strongest flavor, followed by the peach in close second. These 3 fruit flavors mix well for a nice tropical taste that is perfectly sweet. This is another one of my favorite flavors from the BOXMO's.
Banana Ice
Like many banana flavors, this one is more on the candied side and not quite natural tasting. That's not to say that it's bad, just that it tastes more like a banana candy. It's not too sweet but the banana flavor is quite strong. Similar to the other 'ice' flavors, I don't feel any cooling or menthol.
Peach Ice
Peach Ice is a lightly candied peach vape that reminds me of light fuzzy peach candies. It's sweet enough to be enjoyable but not too sweet that it's overwhelming. There's a very very light cooling effect but it's barely noticeable. Really great flavor overall.
How Do They Vape?
Vaptex's BOXMO disposables are prefilled with 13ml of ejuice for up to 5000 puffs, which even by today's disposable standards is a lot. Although they are filled with a lot of ejuice and they aren't exactly small vapes, the draw is a surprisingly tight MTL that you wouldn't expect to get. It's not too tight where you're going to be fighting for a puff, but instead it is close to the draw that you would get if you were smoking a cigarette.
As you read in the last section, the flavors are all pretty good and, aside from the dense Mango Ice flavor, they're all very smooth and provide a nice draw that is also satisfying. However, for whatever reason, I found that these were more satisfying than other 50mg vapes so you have to be careful not to overdo it on the vaping or you're not going to feel great.
To touch on the Photo Etching Mesh Technology that I mentioned earlier, I'm not sure how much of a difference it makes to these vapes but they are quite flavorful. The spitback prevention design certainly works though because I've had no spitback at all in the entire time that I've been using these.
I also have not had any leaking or other performance issues. In part thanks to the draw being a tight MTL, the draw activation is spot on and works every time without a problem.
—-Reviewed by Robert Barnes from Versedvaper.com